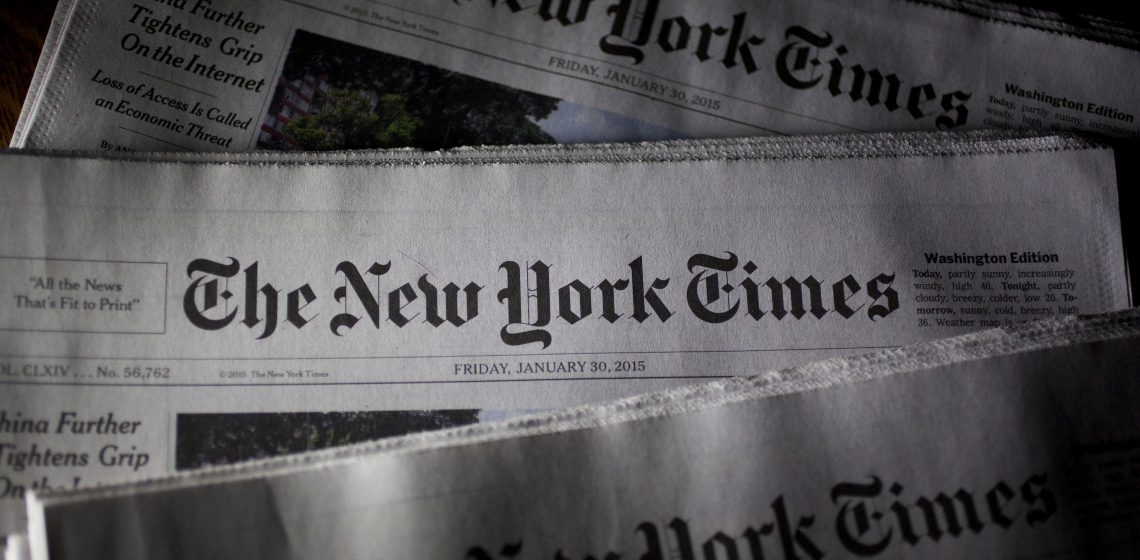 Sul New York Times in prima pagina l'interrogazione che ho presentato con Lia Quartapelle sul contratto firmato dal calciatore nord coreano Choe Song-hyok con la Fiorentina. A preoccuparci la possibilità di aggirare l'embargo e il mancato rispetto dei diritti umani.
Articolo di Andrew Keh e Brando de Leonardis
PERUGIA, Italy — In early 2015, three members of the Liverpool scouting department visited the offices of I.S.M. Academy, a small soccer training school in Corciano, just west of here, to speak with a promising teenage striker.
At some point during the visitors' pitch, Barry Hunter, Liverpool's chief scout, casually name-dropped Steven Gerrard, the longtime Liverpool captain, perhaps as a way to impress the young player. The reference was met with a confused stare.
"Who is Gerrard?" the teenage striker said.
Now it was Hunter who seemed confused. As the other men in the room fidgeted in their seats, Hunter reached for his computer and pulled up images of Gerrard, one of the most famous players of his era, and attempted to explain who he was.
"This is a bit of an awkward situation," Alessandro Dominici, 50, the director of the academy, said as he recalled the meeting.
But maybe it should not have been a surprise. Most of the time, the striker, Han Kwang-song, seems like any other teenage soccer prospect, from any other country. But from time to time, there are moments when it becomes strikingly clear that he is not.
Han, now 19, is North Korean. He arrived in Italy three years ago through an idiosyncratic arrangement between I.S.M. and the North Korean soccer federation that has brought dozens of the hermetic nation's most promising young players to Corciano.
Han wasted little time distinguishing himself. Liverpool expressed interest soon after he arrived, and Dominici said Manchester City and Fiorentina, among others, also called before Han signed his first professional contract, with Cagliari in Serie A, at the start of this year. This season, on loan to the second-division club Perugia, he recorded six goals and an assist in his first 11 games.
This auspicious form has earned Han the attention of even more big clubs. It has also raised the eyebrows of some members of the Italian parliament, who last year initiated an inquiry into the legal status of another young North Korean product of I.S.M. and who continue to wonder whether the players are free from the control of their government, or if their mere employment violates longstanding international sanctions against North Korea.
Han's young career, then, has felt like an experiment in which the range of outcomes has yet to be fully considered. What would happen if an athlete from North Korean achieved success and stardom — and riches — in sports? What would that player's life look like? And how would that player and his or her employers navigate the complex tangle of geopolitical tensions that accompany the country's every move?
The Connection
It was 2012 when officials of North Korea's soccer federation, which is known as P.R.K.F.A., first approached Antonio Razzi, a longtime member of Italy's parliament, seeking help placing young soccer players in Italy.
Razzi is known here, and sometimes criticized, for his congenial stance toward Pyongyang. He has made 10 diplomatic visits to North Korea, and in an interview recently, he repeated regime talking points — "There's no unemployment that I've seen" — and described its capital as "the New York of Asia."
In the North Koreans' view, then, Razzi was the perfect person to help broker an agreement. Through a chain of personal contacts, he connected the soccer officials with I.S.M., which they liked because of its proximity to the North Korean embassy in Rome. In 2013, the federation sent a group of boys ages 10 and 13 to Corciano, but I.S.M. deemed them to be too young for the academy. So a year later, Dominici and Luis Pomares, a coach at I.S.M., joined Razzi and a group of Italian politicians and entrepreneurs on a diplomatic trip to North Korea, where they toured the national sports facilities and scouted some players. That was when they first saw Han play.
"We sort of looked at each other and said, 'Where did this kid come from?' " Dominici said.
Fifteen North Korean boys, including Han, joined I.S.M. that year. The North Koreans initially had a second partnership with an academy in Barcelona called Fundación Marcet, but that relationship dissolved after a year, according to Dominici. Today, I.S.M. has an exclusive contract with the North Korean federation to train its prospects, and scouts from the academy travel to Pyongyang once a year to help pick the next crop of players.
The entire initiative, experts said, is in line with a pattern of behavior from the North Korean government in recent years apparently meant to bolster the country's soccer fortunes. In 2013, the government opened the Pyongyang International Football School to train a few hundred of the country's best young players. In 2016, Jorn Andersen, a German citizen born in Norway, became the first foreigner in almost three decades to coach the North Korean men's national team.
Christopher Green, who has interviewed more than 350 North Korean defectors as part of his research on the political landscape of the country, said that even physical education classes in the country's schools began placing a greater emphasis on soccer in recent years. "North Korea has always had an interest in developing sporting talent — that's not new — but the focus on football seems to be new," Green said.
Han's rise to a professional career in Italy has been the most tangibly successful byproduct of the country's effort. He played five games for Cagliari at the end of the 2016-17 season and scored his first Serie A goal on April 9. Mario Passetti, the general manager of Cagliari, said Han was signed through 2021, but he would not disclose the terms of the contract.
Like others with a stock in Han's success, Passetti played down the importance of Han's heritage.
"He is a really good kid who behaves and carries out a life like all young athletes entering the professional sports world, with friends away from the field and profiles on social media," Passetti said in an email. "Nationality has never been a criterion that would determine the signing or not of a player."
But some wonder if it should be.
The Skeptics
In May 2016, two members of the Italian Parliament's Chamber of Deputies, Michele Nicoletti and Lia Quartapelle, initiated a formal request that the Italian government investigate the contract and the status of Choe Song-hyok, a North Korean product of I.S.M. Academy who had just signed with Fiorentina.
Their concerns, Nicoletti said in an interview, were twofold. First, they asked whether any transfer of money — at any point — had violated international sanctions banning payments to North Korea. Second, they wondered whether Choe's human rights were being restricted in any way.
In 2014, a report commissioned by the United Nations Human Rights Council had unequivocally stated that a broad catalog of human rights was being egregiously violated by the North Korean government. Those abuses — including restrictions on personal liberties, strict state surveillance and the seizure of as much as 90 percent of an individual's wages — often extended to an estimated 100,000 North Koreans working outside the country.
(That is why, in July, the United States' secretary of state, Rex Tillerson, said that any country hosting North Korean workers was "aiding and abetting a dangerous regime.")
Experts say North Korea has sent more workers abroad to fulfill an urgent need back home for hard currency. But in this context, a star athlete offers something unique: a potential vessel of soft power, a rarity for the North Korean government. Remco Breuker, a professor of Korean Studies at the University of Leiden in the Netherlands, said that if Han or another player were to achieve soccer stardom, "politically the payout would be huge" for North Korea.
The Italian government's inquiry ultimately cleared the contract between Fiorentina and Choe after determining that his salary was being paid to a bank account in his name. The question of whether his personal freedoms were being violated was more complicated. The government can investigate only a specific complaint from a party to the relationship — like the player or his club — and since no one had made one, it could not pursue any action.
Nevertheless, Fiorentina canceled Choe's contract and dropped its interest in Han.
In an interview, though, Quartapelle said she felt compelled to continue to monitor the situation, if only because there was still so little known about Han and the other players. "The impression that many of us have is that there really isn't all of this freedom," she said.
Perugia said Han and Choe, who signed with the club after leaving Fiorentina, were not available to be interviewed for this article. The North Korean soccer federation did not respond to an email requesting information about the players, and Sandro Stemperini, who has represented Han and Choe as an agent since earlier this year, declined to comment.
The Players
On Sept. 3, after scoring two goals in Perugia's 4-2 win over Pescara, Han made a brief and awkward appearance on Sky Serie B, a soccer analysis program, by appearing on a big screen in the studio as the broadcasters peppered him with questions. After Han good-naturedly answered a few in his limited Italian, Gianluca Di Marzio, one of the analysts, called out, "What do they say of you in North Korea?"
Han's expression suddenly became serious. "No, sorry," he said, before chuckling apologetically. "I don't want to speak."
The segment came to an abrupt end.
Just over two weeks later, Han was scheduled to appear on another program, "La Domenica Sportiva," alongside Massimiliano Santopadre, the president of the Perugia club, but at the appointed time, only Santopadre showed up to the set. The program's hosts — and, subsequently, other members of the Italian news media — wondered whether the North Korean government had blocked the player's appearance.
Santopadre tried to shoot down that speculation, saying Han was merely shy. "We live in a free country, and if one of my players asks that he not be interviewed, I cannot oblige him to do otherwise," Santopadre said in an interview with The New York Times.
Perugia, though, is a world away from Pyongyang.
The North Korean players at the academy — there are 12 this year, registered as being born in 1999 and 2000 — live alongside others in their age group at the dormitories of the Convitto Nazionale Principe di Napoli Assisi, a boarding school in a nearby town. They sleep three to a room, take classes in the morning and train every afternoon. The cost for each of the 90 or so students at the academy is about 16,000 euros for a nine-month season (about $18,850), which the North Korea soccer federation covers for its players.
The federation also sends an adult supervisor to live with the players. While Han was at I.S.M., that person was Yon Kwang-mu, who at the time was the coach of North Korea's under-17 national team.
The adjustment process for the boys can be difficult, with food a major hang-up. Han and the other North Korean players, for example, often begged the coaches to drive them to a sushi restaurant to sate a taste of Asian cuisine, and Dominici said the embassy officials who frequently drove up from Rome to check on the prospects delivered familiar comfort foods like kimchi.
Breuker, the professor at the University of Leiden, said that North Koreans overseas often had their personal freedoms explicitly limited and that even diplomats and academics abroad felt the intense weight of the country's political apparatus, whether through mandated self-criticism sessions or outright surveillance by government officials.
But Dominici said the school had not been asked to impose, and did not otherwise know of, any restrictions on the freedom of the North Korean players at his academy.
"TV, cellphones, YouTube," added Pomares, the I.S.M. coach. "They have access to everything."
Han now shares an apartment near Perugia's training facility with Choe, Santopadre said, and enjoys playing video games. He even plans to get his driver's license.
"I can guarantee that Han carries out a normal life," Santopadre said. "He has his own cellphone, and like all other 19-year-olds he always has his phone in his hand."
A Peek Inside
The North Korean teenagers may seem unknowable through their veil of privacy, but they are professional athletes, and glimpses of their lives peek through. One afternoon this fall, Choe and Luciano Mancini, the coach of Perugia's youth team, sat together at a restaurant near the team's training facility where a New York Times reporter was already seated for lunch. Mancini gave Choe a pep talk about his play. He asked the teenager about his family back home. Choe, who gave mostly monosyllabic answers in Italian, ordered only a plate of sausages.
In moments of silence, the men looked up at a television set to a sports news program.
Han, with his strong play, has ventured more completely into the spotlight. Last month, he traveled with Perugia to Brescia, in northern Italy, to play his last match before joining North Korea's national team for a pair of international games.
From the opening whistle, Han menaced the Brescia defense, making multiple dribbling runs from Perugia's own half of the field. He looked at once eager and assured. His red uniform hung loosely off his slender body, but he showed surprising strength and power, with larger opponents ricocheting off his body.
In the second half, Han swooped through Brescia's penalty area and scored on a powerful header.
He hurdled the advertising boards and sprinted with his arms raised toward the southwest corner of the stadium, where a few hundred traveling Perugia fans had been sequestered. After soaking in their cheers, Han ran back to the team's bench, where he gave the manager a spirited high-five.
There was a huge smile on his face, and, for a moment, he looked like any other teenager, from any other country.